A significant concern as people grow older is that they may have to leave their home. This would mean leaving behind a comfortable setting familiar community and many memories. In addition, a certain amount of control is lost when one leaves home. This "control" provides the underpinning to our feelings of dignity, quality of life, and independence. One's home is a strong element in that sense of security.
Most American seniors desire to stay in their homes for the rest of their lives. An AARP survey found this number to be greater than 80% of seniors.
To "age in place" requires planning. A few changes will make the home easier and safer to live in and accommodate independent living. Let's begin with the senior bathroom remodel.
Accessible design doesn't have to mean institutional-looking.
Often it is the bathroom that creates difficulties that seniors encounter with their daily activities. Most residential housing is geared toward young, healthy adults and do not take into account age-related conditions like reduced mobility or limited reach.
Many seniors avoid bathroom remodels because of concerns that it will make their home unattractive and decrease its property value. Accessible design doesn't have to mean institutional-looking. No one wants their home to look like a hospital. Multiple products, like grab bars, have been redesigned to be more acceptable in the home. Some of these include:
SENIOR BATHROOM REMODEL IDEAS
Grab bars and handrails with decorator colors
Walk-in tubs
Shower benches
The number one cause of home injuries are falls according to The National Center for Injury Prevention and Control (NCIPC). Seniors are especially susceptible to these types of injuries. Most falls are caused by environmental factors such as a bathroom not truly suited for the elderly.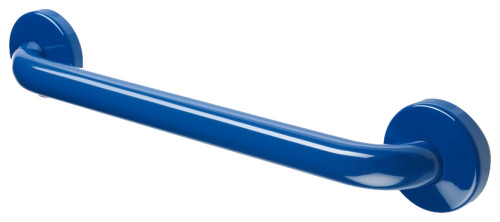 Courtey of Houzz.com
Bathroom Assessment Checklist
It is important to do a thorough assessment of the bathroom to assure that it can properly address the needs of an aging individual. The following senior bathroom remodel checklist will help with items to consider.
For Balance and Coordination
Weak Hand and Arm Strength
Best Non-Slip Bathroom flooring for Seniors
The bathroom is the most important room to remodel for safety when it comes to aging in place. Therefore choosing the flooring that will help prevent slips and falls and is low maintenance is a critical part of this process. From the pattern of your floor to the material you choose, your bathroom floors should be chosen with your safety in mind. Here are six factors to consider when choosing your flooring:
Slip-Resistance
Cushioning
Ease of Movement
Maintenance
Comfort 
Aesthetic Appeal 
Do plenty of research or consult our aging specialist before choosing flooring for your bathroom to ensure that you're making an informed decision. There are lots of choices for bathroom flooring. Here are the pros and cons for our top three choices for bathroom flooring:
Rubber Flooring  (Safety rank: 10 out of 10)
Pros: Rubber flooring is the safest choice you can make in a senior-friendly bathroom. It's not slick when wet; it's easy to maintain; and it creates a soft surface if a fall does occur.
Cons: Rubber flooring isn't as appealing as the design typically found in bathrooms. If you are on a tight budget, it might not be an option as it is expensive.
Non-Slip Vinyl  (Safety rank: 8 out of 10)
Pros: For seniors who live alone and will need to do their own cleaning, vinyl is the most obvious choice for easy maintenance. Stains aren't an issue and the floor won't be scarred or scraped over time as a walker or wheelchair passes over it on a regular basis. You can choose vinyl flooring that looks like wood, ceramic tile, or other types of floors.
Cons: Vinyl doesn't have a lot of padding if you do slip and fall.
Cork or Bamboo (Safety rank: 8 out of 10)
Pros: Cork is soft and comfortable underfoot and gentler in the event of a fall. The material is naturally warmer underfoot, which will be greatly appreciated on cold winter mornings.
Cons: Cork needs proper sealing because it will absorb water. The warm, humid environment and frequent drips that occur in most bathrooms may make it difficult to maintain. Cork also tends to be very soft and easily scratched.
Other flooring choices in order of safety:
Carpet… Keeping bathroom carpet clean is a challenge, especially in a bathroom, where water is common. It may be difficult to keep the carpet completely dry. Safety Rank: 7/10
Hardwood Flooring… Hardwood is very hard and will provide no cushioning in the event of a fall. Hardwood flooring in a bathroom can also be problematic due to moisture. Safety rating: 6/10
Ceramic Tile… Ceramic tile is cold, hard, and very slippery when it's wet, making it a poor choice for seniors' bathrooms. Safety rank: 5/10
Concrete… Concrete is very hard, making it less than ideal in the event of a fall. It's cold can be uncomfortable to stand on for more than a few minutes. Concrete is also susceptible to moisture penetration if it's not treated appropriately. Safety rank: 5/10
Natural Stone… Stone may be beautiful, but it's also hard and unforgiving if you trip and fall. Natural stone is very hard to maintain, making it a poor flooring choice for seniors. Safety rank: 4/10
Some 70% of seniors spend the rest of their life in the place where they celebrated their 65th birthday.
Senior Bathroom Remodel For Safety's Sake
If you're interested in making your bathroom usable for any age or ability, get in touch with our expert remodeler, Richard Huebner. Richard is a Certified Aging-in-Place Specialist.